Protecting Your Carpeting
So, you've chosen carpet that's the perfect fit for your style vision, along with your functional needs. But have you given any thought to what's hidden below the surface? If not, then now is the time to begin. The truth is your new carpet will need a firm foundation in order to perform its best as time goes on.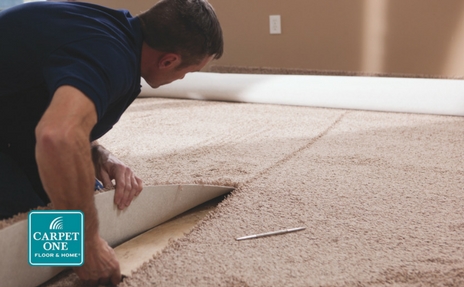 Also known as "underlay," your carpet padding will protect your rug over time. In fact, studies have indicated the use of carpet padding can increase your carpet's lifespan by 50%. Padding accomplishes this by keeping your rug's underside from snagging on your subfloor. It also serves to reduce the impact caused by foot traffic, as well as heavy furniture. The perfect padding will also improve airflow through your carpeting, making the vacuuming process much more efficient.
Our flooring experts at Premier Custom Flooring Carpet One Floor & Home can help you throughout the selection and installation process, guiding you towards carpet padding that's the right fit for your chosen product and your lifestyle.
Carpet Padding Overview
Much like carpeting itself, not all carpet padding is created equal. Did you know that Premier Custom Flooring takes an additional step to stand behind its carpeting products by using a superior padding in each installation? While standard carpeting padding is 6lb, we use 8lb padding with added spill guard as part of every standard carpeting installation. This is extremely effective in protecting your new purchase, since it prevents splashes and spills from seeping into your subfloor, resulting in lingering odors and damages that often go unseen.
Want to learn more about our carpeting services and related products? Visit our showroom, which is located at 33806 Center Ridge Road in North Ridgeville, OH, or give us a call today at (440) 387-4055 to schedule your FREE onsite project estimate.